Ford 3600 Tractor Rear PTO Lift Hydraulics
Thats a mouthful of a title.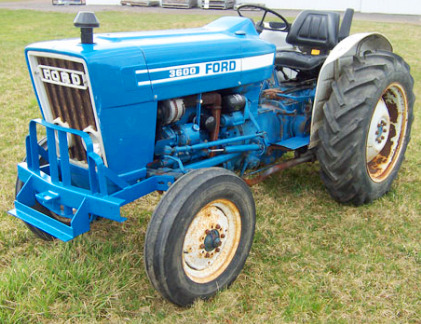 The New Holland parts pages are incomplete. At least for the Ford 3600 tractors.
Sometime in 1975, Ford 2600 and 3600 tractors added a hydraulic fluid cooler for the rear hydraulic lift. I assume they were getting enough warranty claims on the new (at the time) tractors of overheated rear ends that something had to be done. Since the larger tractors (4600, 5600, etc) had coolers due to heavier workloads and shared rear end castings, it was easy for Ford to add coolers to the smaller ones.
The lines from the rear end to the cooler (mounted near the radiator) are solid metal and 1/2" in diameter. The cooler is connected to the lines with rubber hoses. This is stock from the factory and not the symptom of field repairs.
12mm, 13mm, and 1/2" fuel, transmission, or hydraulic hoses can be used to replace these rubber hoses when the eventually fail. I reused the hose clamps, you can do so if you want or replace them. Mine were rust free due to being covered in hydraulic fluid.
This is a metered low pressure hydraulic line. Leaks caused by pressure aren't a big concern. Other leaks will eventually drain your rear end of lubrication.
The fill check port is under the cooler line return. It takes a 3/8" wrench and is kind of a pain to get to from above. I'd recommend getting at it from below. My tractor ended up being almost 5 gallons short on hydraulic fluid. I use the Tractor Supply Universal Tractor Fluid, but anything that meets or exceeds the M2C134D specification should be just fine. Its in tiny print on the back of the bottle.
This is the culmination of scouring ancient forums and having service manuals. Good luck with your ancient tractor. God willing mine makes it another season.